SWIPE AND GO - TO CAPTURE OVERTIME AND STAY IN COMPLIANCE
Adonis Time Clock Video
Adonis Time Clock represents the most modern and efficient way to track time and attendance of your crew members, capture overtime for payroll and stay in compliance with work & rest hours regulations. Please take a moment to watch our introduction video.
Adonis Time Clock is a part of Adonis' complete solution for crew administration. We can provide our customers the most modern and reliable tools for crew administration and planning, utilizing web technology and interface, in combination with ship/shore data replication. The complete crew data base is available in real time at all times for any user role involved in the crew management processes. With Adonis, you can eliminate all issues which are due to the physical distance between main office, department offices and vessels or platforms.
The individual crew members have access to their data through a web crew portal and can view and make registrations, receive messages, post requests and upload travel expense reports for reimbursement through payroll.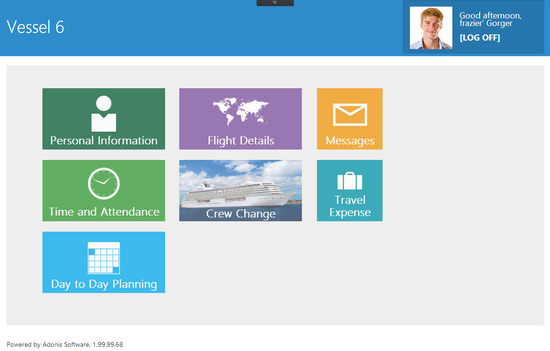 Through a chain of approval, team leaders and department heads can review work and rest hours and approve overtime hours and travel expenses for Adonis Payroll module. For passenger ships with large short-term variations in staffing needs, a new module for "day to day planning" will be available soon.
Contact sales@adonis.no for a presentation of our solutions over the web or in your offices.