Genting HK select Adonis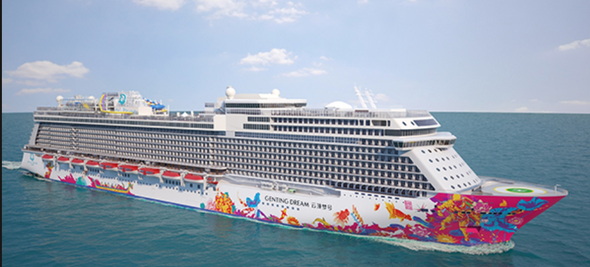 Asias largest cruise company to roll out the Adonis HR, Payroll and Crewing solution to coordinate ship-to-shore processes for ships in its Star Cruises and Dream Cruises lines.
BERGEN, NORWAY 12. 21. 2016: Adonis AS, leading providers of global maritime HR solutions, today announced that Genting Hong Kong will implement the complete Adonis Human Resource Management System for Star Cruises, providing centralized management of HR, payroll and crewing processes to coordinate their offices, agent network and eight ships in their fleet, while maintaining MLC compliance. Genting HK will also implement the Adonis solution onboard Genting Dream, the recently launched flagship of Dream Cruises.
«...centralized management of Human Resources»
«As our cruise operations continue to grow, we required a central system to manage and coordinate our offices, crew agents and ships in real time, while simplifying MLC compliance,» said Michael Hackman, Executive Vice President, Marine Operations Genting Hong Kong. «Adonis covers the entire spectrum of crew related operations, from web-based recruitment, employment, planning crew change, to payroll. In addition to outfitting eight of our ships with the industry's most complete system for efficient crew management, we selected Adonis due to their deep understanding of the special needs of shipping companies such as ours, and their reputation for stellar support and integrity.»
«

...a long and close partnership»
«We are pleased and honored that Genting HK, one of the world's biggest and most respected cruise companies, has entrusted their operations to Adonis and our suite of automated maritime HR, Payroll and Crewing solutions,» said Project Director of Adonis, Sigrid Kviteberg. "We've enjoyed a long and close partnership with Genting HK's subsidiary Crystal Cruises, having just implemented our suite for their River Cruise fleet, which gave them the confidence to expand our relationship. We look forward to continuing our work with Genting HK and supporting their growth in the Asia Pacific, indeed, around the globe.»
Genting HK is a leading global leisure, entertainment and hospitality enterprise, with core competencies in both land and sea-based businesses. Genting HK cruise lines include Dream Cruises, the first-ever Asian luxury cruise line, Star Cruises, the leading cruise company in the Asia Pacific (and the world's third largest cruise company, behind Carnival and RCCL), as well as two brands that have already implemented Adonis solutions: Crystal Cruises, a U.S. luxury cruise line and its river cruise division, Crystal River Cruises. Headquartered in Hong Kong, they have a presence in more than 20 locations worldwide with offices and representation in Australia, China, Germany, India, Indonesia, Japan, Malaysia, the Philippines, Singapore, Sweden, Taiwan, the United Kingdom and the United States.
The Adonis solution will enable Genting HK cruise companies to host and consolidate all their crewing, HR and payroll processes using a central HR database, which will improve efficiencies and coordination between their vessels and their various shore side crew pools and offices.
For more information, e-mail sales@adonis.no