RESPONSIVE TO THE SPECIAL CHALLENGES IN THE
Offshore and Supply Industry

In no other maritime sector are the stakes higher, the waves deeper and the skills of key personnel more demanding than in the offshore industry.
It's about oil and money, with daily rates thrashing about like a swing in a storm. It's about offshore windmills, cables and pipes that transit to rigs. And most importantly, it has everything to do with crew and workers being exposed to the roughest weather and treacherous working conditions. Maximum attention and concentration is required hour after hour to avoid putting themselves, their fellow mates and the equipment they handle at risk. Many highly skilled and valuable people are attracted to the offshore industry, enticed not only by the attractive wages but also because the projects are exhilarating. As an employer, much is invested in safety, qualifications and professional skills, which is of vital importance. Developing the best employer - employee rapport year after year is what your Human Resource System requirements should be about.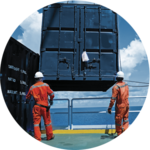 For several years now, some of the leading offshore companies have been our partners. We understand their strict timelines and we also appreciate the unpredictable twists and turns that are part of the maritime industry. We know their need in finding the right people for the demanding jobs, and how essential it is to move personnel quickly and swiftly to and from sites, vessels and ports.